Barack Obama has been hailed as the most influential president for climate change America has ever seen, right until the end. As one of his last acts as president, he gave $500 million to the UN green fund to protect his legacy. Why? Because he has been followed into the White House by one of the biggest climate change sceptics ever to hold office; Donald Trump. Trump has said that "there is still much that needs to be investigated in the field of 'climate change'", even though it is seen globally as a hard fact. Let's look at a few differences of opinion Trump and Obama have had when it comes to climate change:
Obama was definitely the voice for climate change that the USA needed. He initiated the Paris Climate Agreement. He established the first-ever national carbon pollution standards for power plants. He set new energy-efficiency standards for appliances and equipment. He reduced the Federal Government's greenhouse gas emissions by more than 17 percent. He made the largest single investment in clean energy in history through the American Recovery and Reinvestment Act (Recovery Act), providing more than $90 billion in strategic clean energy investments. He has funded, through federal investment, technology improvements in clean energy, dropping the cost of solar by 64 percent, wind by 41 percent and LEDs by 94 percent. The list goes on and on and on.
However, as much as Obama was keen to pioneer action on climate change for a greener future, it seems Trump is keen to see Obama's work reversed. In Trumps first day of office, he wiped any mention of climate change from the White House website. Then, as one of his first acts as president, he has introduced an "America First Energy Plan", which includes getting rid of "burdensome regulations on our energy industry", such as "harmful and unnecessary policies such as the Climate Action Plan and the Waters of the US rule". This shows Trump's disregard for the Climate Action plan, and similar legislation. The "America First Energy Plan" perfectly surmises what kind of President Trump will be; a leader for America, perhaps, but not for the world. Trump has previously said that he wishes to pull out of the Paris Climate Agreement, which seeks to improve the global impact of climate change by setting targets for nations around the world. If Trump withdraws US support, it could lead to the fall of the most important climate change legislation of the 21st century. Climate change is a worrying and global issue, but Trump's denial means that, as one of the world's biggest powers, America could pave the way for a regression on climate change awareness and issues.
Even a twitter user, Ivanka Majic, who Trump mistakenly took for his daughter, had a few words for Trump concerning climate change: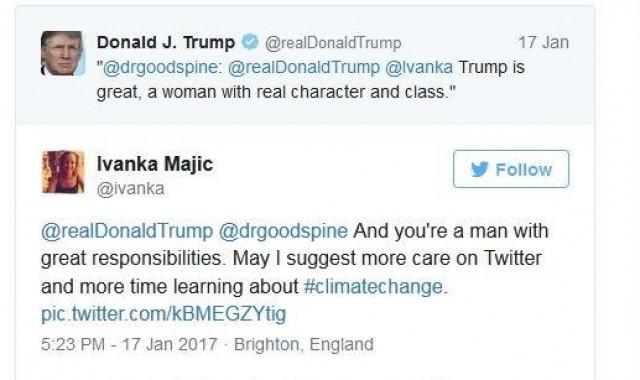 We can all hope, Ivanka.
Though it seems highly unlikely that Trump will follow in Obama's footsteps when it comes to climate change and clean energy legislation, we can all hope that Trump sees his people; and people around the world, asking him to accept and appreciate the gravity of our current situation, and asking him to undo the damage he has already done. Please, Trump. Make America green again.